FWC Sets Scallop Season Dates for 2020
Scalloping is a fun recreational activity for Florida's Nature Coast in the summer months. It is quite popular, with people visiting the area to harvest their dinner.
There are eight counties that are surveyed within the open harvest area: Gulf, Franklin, Wakulla, Taylor, Dixie, Citrus, Hernando, and Pasco.
The table below illustrates the average number of scallops observed per 200 square meters in Citrus, Hernando and Pasco counties since 2012 and how that number relates to the abundance categories.
| | | | |
| --- | --- | --- | --- |
| Year | Citrus | Hernando | Pasco |
| 2012 | 11.3 | 13.9 | 8.9 |
| 2013 | 19.8 | 14.6 | 14.6 |
| 2014 | 9.4 | 13.4 | 9.3 |
| 2015 | 20.4 | 10.1 | 13.9 |
| 2016 | 20.2 | 15.5 | 11.2 |
| 2017 | 13 | 9.5 | 13.2 |
| 2018 | 21.1 | 3.5 | 6.1 |
| 2019 | 4.3 | 2 | 6.4 |
| Average All Time | 15 | 10.3 | 10.4 |
Scallop population abundance is highly variable because scallops live for one year and scallops are sensitive to changes in water quality, like salinity. Abrupt changes in scallop population abundance may occur after major environmental events such as an El Niño, hurricanes or tropical storms.
Each year, the Florida Fish and Wildlife Commission evaluates the bay scallop population and decides upon the appropriate season for recreational harvesting.
Scallop Season Dates for Levy, Citrus, and Hernando counties
Levy, Citrus and Hernando counties (including Cedar Key, Crystal River, and Homosassa): July 1 through Sept. 24. This region includes all state waters south of Alligator Pass day beacon #4 near the mouth of the Suwannee River in Levy County and north of the Hernando – Pasco county line.
Please do not discard scallop shells in inshore waters commonly used for recreational activities such as the Homosassa River or the Crystal River. Piles of discarded scallop shells can create hazards for swimmers and damage seagrass habitat. Scallop shells can be discarded in a trash receptacle or in larger bodies of water where they are more likely to disperse.
Pasco County Scallop Season Dates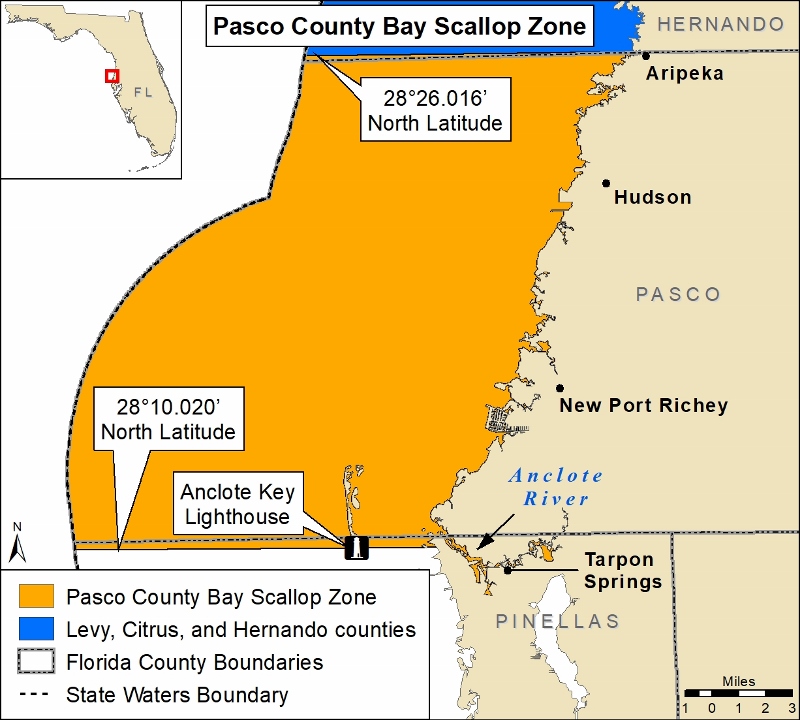 Pasco County: July 17-26, 2020 (opens third Friday in July and continues 10 days). This region includes all state waters south of the Hernando – Pasco county line and north of the Anclote Key Lighthouse in northern Pinellas County and includes all waters of the Anclote River.
Daily Bag Limit for Bay Scallops:
Levy, Citrus, Hernando and Pasco County:

Per person: 2 gallons of whole bay scallops in shell or 1 pint of bay scallop meat
Per vessel: Maximum of 10 gallons of whole bay scallops in shell or 1/2 gallon bay scallop meat per
Minimum Size Limit: None
Scalloping Gear Requirements:
Legal Gear: Harvest permitted only by hand or by using a landing or dip net
A recreational saltwater fishing license is required if you harvest bay scallops from a vessel.
A dive flag is required to be set where you are scalloping.
Licensing and Harvesting:
Commercial harvest of Bay Scallops is prohibited.
Recreational harvesters need a Florida saltwater fishing license to harvest bay scallops, unless they are 1. exempt from needing a license or 2. have a no-cost shoreline fishing license and are wading from shore to collect scallops (i.e. feet do not leave bottom to swim, snorkel, or SCUBA and harvesters do not use a vessel to reach or return from the harvest location).
More Scalloping Information: